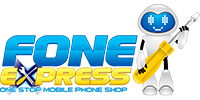 Fone Express
Fone Express is a reputable Mobile Phone and Accessories business which has been established since 2002.
During this time we have secured a reputation for being your one stop mobile phone shop! Whether its a mobile phone repair you need or a top of the range accessory to personalise your phone or tablet – Fone Express, we have it all!
We pride ourselves on our great customer service and impeccable stores. Not to mention our friendly staff who are highly trained in areas of phone and tablet repairs, screen guard application, Bluetooth technology, wireless charging and various phone and tablet accessories.
We can safely guarantee that we are able to meet all your mobile needs, from the replacement of LCD screens and speakers to unlocking blocked phones, repairing water damage and more!
Drop into any of our stores with your mobile phone or tablet and we'll give you a free quote on your repair.
Showing all 12 results
Fone Express

iPhone 11 Jungle Case

Quick View